About Paulina
A coaching psychologist and psychotherapist, I weave practicality, sometimes tough love, commitment, a profound belief in the preciousness of every life, and our ability to heal, grow, make choices and change together with skill knowledge and expertise to work with you to achieve your goals.
A sense of mystery, a reverence for and curiosity about the unknown, the knowledge that one day each one of us, even Earth itself, will end, challenges many of us unawares. Denying this causes anxiety and depression and fosters a deadness in our lives. We may busy ourselves and buy things to pretend a purposefulness we don't feel. Conversely, allowing ourselves to face this, enough and appropriately, the vitality for life that can emerge is truly wonderful.
I promise that with your commitment and openness to the process I can help you make honest sustainable change, helping to "hold" you in the tough times and be alongside you in all phases for your journey. I have been involved in psychology, therapy and coaching for around 30 years and have a solid track record of satisfied clients.
My specialisms are
Helping people develop themselves, identifying their blocks and learning how to work through them or around them in a sustainable way to achieve personal wellbeing, success and fulfilment of self, vision and goals.
Emanating for a two year research programme* in stress and burn out with senior accountants I specialise in deep and sustainable stress management.
* PwC, Central and Eastern Europe, 2003/04
Family work, please see separate page.
Qualifications and Training
Over eight years of training led to my Graduation from the Spectrum Course for Humanistic Psychotherapy in 2002
1991 BA Honours (Open) . Psychology. ( 2.1)
1977 Certificate in Education, English and History
1974 Certificate in Preliminary Residential Child Care (a preliminary social work qualification).
I am committed to continuing professional development in stress management, formative work and coaching, and I undertake regular supervision.
Professional Membership:
I am a graduate member of the British Psychological Society, and a member of their Coaching Section.
I take a minimum of 10 days further training every year and undertake regular supervision. Always feel free to ask about qualifications and experience.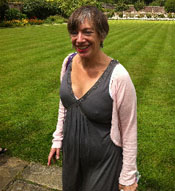 As a creative person with a passion for nature and conservation, I work intuitively and experientially. My humanistic background and commitment means that I am focused on you and your work, and at the same time am aware that I too am on a journey and will share my experience when this feels in the service of your aims. My interest is in supporting you with sustainable growth, development and achievements."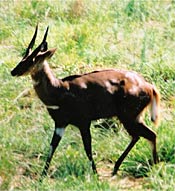 "Bushbuck. After a special and private encounter with the bushbuck in the iMfolosi wilderness in 2005 the words 'wild heart" came to me. Over years a depth of meaning became clear. The theme is authenticity, connectedness, heart and respect. When we have connection with the whole of nature, which we are part of, and are in touch with our completeness, we have the ability to act aptly for ourselves, others and the world.