Personal Development
One-one coaching psychology is a creative process where we work together to achieve your goals and dreams and to resolve difficulties and anxiety. Working democratically and with integrity are key values.
I encourage your experience of mastery and possibility through fostering self responsibility and self knowledge combined with supporting you in experimenting with new behaviours and thoughts, and working with you on how you can form yourself to influence your feelings and potential.
I draw on psychological education, coaching, and humanistic and relational psychotherapy skills and knowledge, as well as a wide variety of learning and experience from life, nature, the arts, and occasionally training.
Guided visualisations can open you to possibility in a wonderful and deep way.
Embodying the work is vital for sustainability and maximum self fulfilment. Many of us, especially if we are good with words, con ourselves that we can change through gaining insights. This is lethal! I help you to work through the delicate and sometimes challenging work of embodying change.
Occasional outdoor sessions, especially in nature, help to throw up and develop fresh perspectives and I can use experience in nature to support you in embodying insights.
Click for Courses
Nature. Bespoke nature based personal and professional development programmes, group and 1-1. From raw wild to bespoke luxury holidays. nature offers transformative space and inspiration, widening our perspective and kindling our passion and creativity.
Southern Africa: Luxury holidays and wilderness trails/workshops offered on a bespoke basis..
Walks I run occasional "Wellbeing Walks" in Surrey. New dates for September
Newsletter Updated 27th July 2013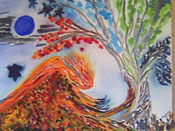 "Open to your creativity"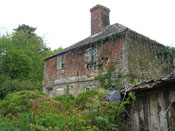 "A house is often a metaphor for our inner self. If you imagine your self and your life as a house, what kind of house would you like to create? Looking honestly, compassionately and with curiosity about how we are right now sets the ground for growth and the achievement of dreams. This lovely old house had been neglected for many years. It is full of history and love, and I dare say some hard times too. It is beautiful as it is, and has wonderful potential. What would your "house" look like, what patterns, textiles, memories lay inside ready to be discovered and developed?"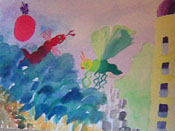 " This painting shows caterpillars getting ready to transform. What transformation are you ready for? Let me help you achieve it."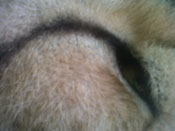 "Discover your wild self"