Personal Development
Coaching Psychology
One-one coaching psychology is a creative, dynamic process where we work together to achieve your goals and dreams, and resolve blocks and reduce anxiety if needed. Change orientated and sustainable, coaching psychology provides a creative, exciting and often fun journey to greater fulfilment as well as achieving dreams, goals and visions. Working democratically and with integrity are key values. Many of the methods of psychotherapy, as below, are used, albeit on a different and sometimes playful level.
Occasional outdoor sessions, especially in nature, help to throw up and develop fresh perspectives and I can use experience in nature to support you in embodying insights. Creativity sessions often bring up potent surprises!
Psychotherapy
Working humanistically I have as democratic an approach as is possible whilst using my experience and expertise in the service of my clients. .Helping with healing in both traditional talking ways and through ritual, and using creativity and nature where clients enjoy this. The space to "say the unsayable" and be truly heard s precious, especially for those starting out on they're healing journey. Dreams, symbols and metaphor can be powerful aids.
I also help you to identify blocks and how past trauma or other pain and life events have influenced your values, attitudes and behaviour patterns, all of which impact our self esteem, relationships, and our reaching our dreams. Once identified...sometimes through honest feedback that is absolutely "on your side," I support you in experimenting with new attitudes, behaviours and thoughts, developing a sense of self worth, acceptance, fulfilment, mastery, working towards your dreams and developing a friendly relationship with yourself. Using up to date neuroscience research to help you form yourself in a way that pleases and satisfies you is core, this work when you take to it is profound and often very moving.
I will work explicitly with models and theory from psychology and psychotherapy and share these with you. Learning comes from experience...insights and understanding alone don't heal us or enable sustained deep change...but having an explicit understanding of process can be extremely empowering.
Psychotherapy can be an incredibly rich as well as a healing gift to oneself. It can also be a bumpy journey, and can never be a quick fix. I will support through the bumpy times. I work to help you achieve sustainable healing and growth, and best results takes commitment on both sides. Psychotherapy is usually weekly at least at first, with breaks for natural holidays. I work in person at home in Wadhurst (East Sussex south of Tunbridge Wells) in Forest Row and on Hampstead Heath. I also offer work on skype and by phone.
Click for Courses
Nature. Bespoke nature based personal and professional development programmes, group and 1-1. From raw wild to bespoke luxury holidays. nature offers transformative space and inspiration, widening our perspective and kindling our passion and creativity.
Southern Africa: Luxury holidays and wilderness trails/workshops offered on a bespoke basis..
Walks I run occasional "Wellbeing Walks" in Surrey. New dates for September
Newsletter Updated 14th February 2017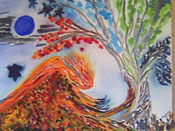 "Open to your creativity"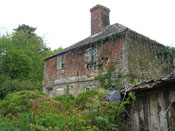 "A house is often a metaphor for our inner self. If you imagine your self and your life as a house, what kind of house would you like to create? Looking honestly, compassionately and with curiosity about how we are right now sets the ground for growth and the achievement of dreams. This lovely old house had been neglected for many years. It is full of history and love, and I dare say some hard times too. It is beautiful as it is, and has wonderful potential. What would your "house" look like, what patterns, textiles, memories lay inside ready to be discovered and developed?"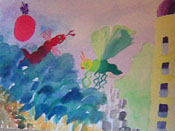 " This painting shows caterpillars getting ready to transform. What transformation are you ready for? Let me help you achieve it."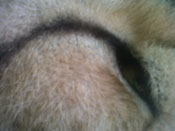 "Discover your wild self"