Personal Development
Courses
Developing and embodying presence. Occupying ourselves in the most fulfilling way. Wellbeing and finding space for ourselves: for women,
Parenting ourselves as adults: Change our perspective of the past and flourish! Discover the you you dream of being. Collecting names of interested people now to start in the Summer..
Dreamboarding; Using creative activities and structures to discover our deepest vision, undo blocks and achieve our dreams! After a successful pilot this Winter, I am collecting names of interested people now to start in the Summer.
Where Face to face meetings in London and across the South East, or nationally and internationally by phone/skype. In London, I offer work in the Highgate consulting rooms on the edge of Hampstead Heath as well as in other venues to suit you. I travel nationally and internationally, fees for travel negotiable.

Nature. Bespoke nature based personal and professional development programmes, group and 1-1. From raw wild to bespoke luxury holidays. nature offers transformative space and inspiration, widening our perspective and kindling our passion and creativity.
Southern Africa: Luxury holidays and wilderness trails/workshops offered on a bespoke basis..
Walks I run occasional "Wellbeing Walks" in Surrey. New date coming soon.
Newsletter Updated 23rd July 2012.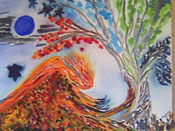 "Open to your creativity"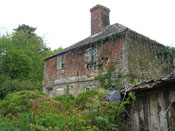 "A house is often a metaphor for our inner self. If you imagine your self and your life as a house, what kind of house would you like to create? Looking honestly, compassionately and with curiosity about how we are right now sets the ground for growth and the achievement of dreams. This lovely old house had been neglected for many years. It is full of history and love, and I dare say some hard times too. It is beautiful as it is, and has wonderful potential. What would your "house" look like, what patterns, textiles, memories lay inside ready to be discovered and developed?"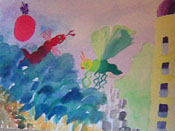 " This painting shows caterpillars getting ready to transform. What transformation are you ready for? Let me help you achieve it."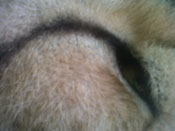 "Discover your wild self"